MaterialDistrict Rotterdam, the yearly exposition and conference on new materials, has 140 exhibitors this year, 200 new materials, presentations by 100 front-runner start-ups & designers, and op top of that a conference program with some 60 speakers. Rotterdam Ahoy will be the host again to wonderful, exciting, problem solving and actual materials innovations. 
MaterialDistrict Rotterdam (formerly: Material Xperience) will be held March 12-14 in Rotterdam Ahoy. More info through this link. For a free ticket log in here.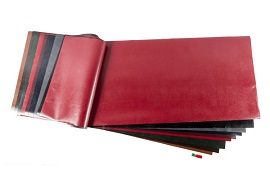 New materials in MaterialDistrict Rotterdam
How will we be able to treat our resources in a smarter way? Which materials are available already, recycled, healthy, low on CO2 emissions and allowing smart applications? At MaterialDistrict Rotterdam one will find examples of recycling, upcycling, repair and better longevity of applied concrete, glass, polymers and metals. Each year, there are more biobased materials, produced from resources like wood, bamboo, micro and macro algae, or yeasts and moulds. The exhibition shows items on digital techniques, new aesthetics and smart materials with extra functions. This year, the organizers have contracted nine internationally renowned ambassadors. They have helped to shape exhibition and conference in six sectors: Architecture, Interiors, Products, Textiles & Fabrics, Urban & Landscapes and Print & Sign.
On each theme, the organizers have arranged a 'pavilion', that shows special exhibits and installations relating to the theme. Palm leather carpets, fashion made from coffee textiles, 'green' graffiti, thin glass façades, denim furniture, communicative façades…. And they show the 200 newest materials from the collection: printed roof tiles, a composite material made from marble powder and oysters, sidewalk tiles made from incinerated waste – and 197 more innovations that will be there to be seen, touched and experienced. On top of that, each yearly event hosts a major conference.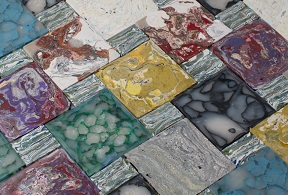 Recycling
Recycling is one of the recurrent themes of the exhibition. Just four examples. Designer Enis Akiev developed 'Plastic Stone Tiles'. These tiles look like made from rock, but they actually consist of recycled plastic mixed with 'geological components'.  The artist posed herself questions like 'what is waste?' She wants to change the perception of waste and to show its unique aesthetics, thus increasing the value of disposable packaging waste and making it accessible as an aesthetically pleasing and durable material.
And, along the same lines, Sasminimum shows Le Pavé tiles: made of 100% waste plastic recovered from nature and from the ocean. The material has a speckled look, like puzzle pieces. To maximize the ecological and social impact, the plastic is guaranteed fair trade under the label 'Waste & Hope'.
SilicaStone is a material created from recycled waste glass and ceramics. This patented process allows the creation of a range of surfaces that offer new and exciting design possibilities for both interior and exterior projects. They are supplied loose and can be installed directly onto existing surfaces without the need for grout.
And then, to my surprise, there is also recycled leather, by Winter&Company. This material is made from the waste of tanning companies, when the skins are divided to match their thickness. The fibres are bound with natural latex. The resulting material has the appearance and touch of natural leather. It is available in natural colours, or with a finish of natural polymers in various colours and textures.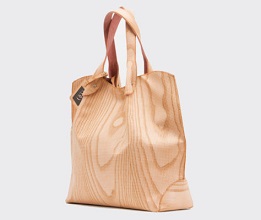 Biobased materials
Nuo is present with two materials: Nuo leaf, a lightweight material consisting of up to 90% cellulose. It has the feel of leather and can be used for an infinite number of projects. And Nuo wood, thin sheets of wood, bonded to a fabric and then micro laser etched, which gives this product an impressive pliability. The product is soft as leather and as flexible as fabric, as well as eco-friendly and biodegradable. Fashion is the first industry to heave realized the potential of this new material. But its uses are endless: everything that can be made from a textile or leather can also be made from Nuo.
We know that flax is on its way back, among others in composite materials. Flaxco shows such a range of such materials, manufactured from woven flax fibre, pre-impregnated and consolidated with polypropylene or PLA resins. The materials can be delivered in rigid sheets or on rolls. The mechanical properties of these lightweight bio-based materials are high stiffness, strength, and vibration and noise absorption. Their possible applications range from automotive to sports and consumer goods.
And then, we know that there is a lot of interest for natural dyes as well. Natural Dyeing BV uses dyestuff extracted from natural non-edible materials like stems, skins and roots of plants. Natural materials like cotton, silk, wool and linen will take the dye the best. The textile industry generates a lot of waste water and causes water and soil pollution because of toxic dyes; but by using natural dyes, industry can drastically reduce its pollution.
SLP Thermowood is Finnish wood with the properties of hardwood because it has been treated with steam at a high temperature (185 – 215°C). The company does not use any chemicals in the production process. Thermo-treated products are natural and environmentally friendly. The company produces its products in two classes, Thermo-S, characterized by good appearance and stability, and Thermo-D, with biological durability as its essential feature.
MaterialDistrict Rotterdam will show hundreds of other inspiring materials. Worth a visit!
Interesting? Then also read:
Strongest biomaterial ever
Genetically engineered spider silk
Sustainable materials need certification and lobbies
(Visited 23 times, 1 visits today)