In Asia, banana leaves were always used for food packaging. But they quickly deteriorate. They have been overtaken by plastics, that now often clog the waterways and pollute the oceans. An young Indian inventor has managed to process banana leaves to a packaging material that keeps it properties for three years. And it is perfectly biodegradable.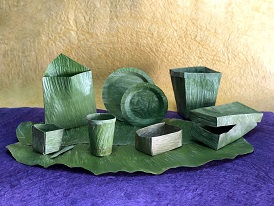 Paper and plastic, the preferred packaging materials of the industrialized society, both have a major downside. For paper, mankind cuts down billons of trees annually. And plastic disposables thrown away result in a world-wide pollution with unknown effects. But, as the company Banana Leaf Technology Products tells us, Mother Nature offers us everything we need. So it's up to humankind to make the right choice. 'Nature and mankind should coexist in every aspect to create the sustainable civilisation.'
Cellular enhancement in banana leaves
Banana Leaf Technology started in 2010 when Tenith Adithyaa, then 11 years old, saw farmers in Southern India dump heaps of banana leaves as trash due to the lack of a preservation technology. The spark ignited when the question came to the mind, 'can these leaves be enhanced biologically?' By trial and error, he succeeded in preserving the leaves for about a year without using any chemicals. For four years, he perfected his technology of cellular enhancement. He received his first international award for this technology in 2014, at the global invention fair in Texas.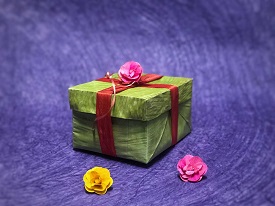 The technology enhances cells, strengthens cell walls of leaves and prevents pathogenic agents from destroying the cells. Increased in their durability, stretchability and crushability, preserved leaves can resist extreme temperatures and hold more weight than in their original state. The preservation capability of leaves with natural green colour is for a period of up to one year and an extended shelf lifespan of three years without its natural colour. These processed biomaterials are biodegradable, healthy, pathogenic resistant, human-friendly and completely eco-friendly.
Banana leaves to fulfil modern needs
'This technology evolves the traditional practice to suit modern needs,' the company website tells us, 'thus providing a sustainable environmental solution to a longstanding global problem and on its way to saving 4 billion trees every year. This processed biomaterial made from leaves currently serves over 30 products wherein its applications are limitless.' And the website does not fail to mention that this material serves ten out of the seventeen Sustainable Development Goals formulated by the United Nations.
'This processed biomaterial is totally chemical-free, animal fodder, cost-effective, 100 % bio-degradable and goes back into nature when discarded in 28 days as opposed to plastic and similar products which stay in nature for around 7,30,000 days. This solves the global landfill crisis that results in constantly rising heaps of garbage which amount to more than 1 billion tons per year, almost reaching up to Mount Everest and prevents the death and cruelty to 200 million land and aquatic animals.'
'This humble initiative to save millions of trees, directs a path for humanity towards saving the environment with the promise of circular economy and now it is time to be the Heroes, we were always meant to be, the guardians of the planet.'
Interesting? Then also read:
CocoPallet: grow in niches and compete on price, says Michiel Vos
Tree bark: an untapped resource
Straw, an excellent construction material
(Visited 7,663 times, 14 visits today)