CocoPallet is a Dutch start-up that valorises the husk of the coconut to pallets for freight transport. Last month, Michiel Vos, founder and CTO of the company, was in Indonesia with a trade mission headed by Dutch prime minister Mark Rutte. Much of the husk there goes to waste on plantations. CocoPallet proposes valorisation of this waste – but needs to listen primarily to its prospective customers, says Vos.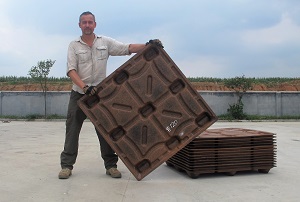 A very sustainable product
CocoPallet's technology was developed by Wageningen UR over a decade ago. It consists of heating and pressing the feedstock; the lignin in the coir melts and binds together the fibres, producing a compact and strong biobased material. The technology lay shelved for some time, but is now further industrially developed by CocoPallet. Does the company own an IP on its process? No, says Vos, the technology as developed by the university is public knowledge; but CocoPallet has brought many process improvements to the product by which it maintains a competitive advantage. The product as sold now is so hard and strong that it is impenetrable to vermin like termites. It does not contain synthetic resins and does not require harmful and costly pest-treatments such as methylbromide fumigation.
In a bird's eye view, cocopallets have many advantages. They substitute once-through wooden pallets mainly used for transport from Eastern and South-eastern Asia to Europe and the US. The wood used for these pallets is first transported to Asia from far-away countries like Scandinavia. The yearly throughput of pallets on this route numbers about 1.7 billion, for which 170 million trees have to be felled. The cocopallet saves trees and their transport, it can be reused, it is biodegradable when shredded and brings an extra income to farmers in developing countries. The product is both sustainable and strong enough. But earlier experiences have taught Michiel Vos that this is not sufficient. In his office, he stores a baseball bat made of compressed bamboo. The material did not succeed in the market, because it was more expensive than products made from illegally logged hardwood. Nobody pays just for sustainability, he says. The better solution should also be cheaper, that is the only parameter that makes the market move.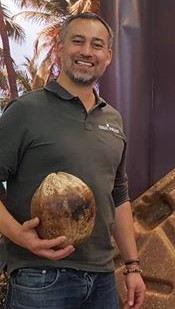 Cocopallet, serving the customer
So for the CocoPallet, Vos has changed his strategy. He looks for niches and tries to compete on price. Which also implies offering volume. Although third-world farmers may benefit most from his product, and Vos has visited many coconut plantations, he spends more than half of his time talking to prospective clients. Major international haulage companies, Maersk, NYK and their colleagues; trying to establish their problems and needs. Recently, the company started to develop a very heavy-duty pallet for heavy loads like 'big bags', much in use in construction nowadays. Also, Vos talks to chemical industry, because it is very interested in CocoPallet's fire resistance. Niches, that might carry the product one step further. Automotive industry might be very much interested for door panels and rear shelves; but then, Vos says, lead times there may be as long as eight years, and the young company would not be able to bridge that time span yet.
CocoPallet won several prizes on its product. Last October, it was one of the ten winners of the Hello Tomorrow Bloomberg award, chosen from 3,500 contestants out of 105 countries. And they won an innovation prize awarded by Accenture consultants. Next year it will construct its first commercial plant, on Sumatra, adjacent to one of the main shipping routes on earth. In Indonesia, Vos spent much time investigating shipping routes, roads, locations of plantations. Trying to establish the best conditions for new plants – three to five in the coming five years, according to plans. Michiel Vos is hopeful and has a wait-and-see attitude at the same time. His past business failures have taught him that there is a thin line between failure and success. But he may well have hit the jackpot, this time.
(Visited 192 times, 1 visits today)