Archives by date
You are browsing the site archives by date.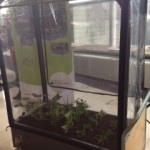 At least one hundred projects have applied for a stand on the second exhibition day for urban agriculture in the Netherlands. 'The sector is growing so fast that next year, there will surely be twice or three times as many applicants,' say the organizers of the Urban Agriculture Day in Rotterdam. But for many projects,
Old patterns are pervasive in the perception of sustainability. Motor car journalists do not like the Toyota Prius, not because it would be a bad car, but because it has been introduced in the market on the basis of its energy efficiency; that reminds them of the anti motor car activists of the seventies, and
Sorry, this column on Dutch innovation policy and biobased SMEs is only available in Dutch.
There is a lot of emotion in the food/fuel discussion. Of course in the disguise of academic arguments, and supplied with discourses on LCA and ILUC, but nevertheless firmly rooted in the necessity of a daily bowl of rice for the poor fellow citizen, and in conservation of the earth. Fine starting points. One can
'Americans act and deliver, Europeans doubt and talk.' Says Steve Hartig, General Manager to POET-DSM Advanced Biofuels, the joint venture of the Dutch biotech company and the largest alcohol producer in the US. He is quite outspoken on the construction of second generation alcohol plants in the US. 'Much of the knowledge is from Europe,
Generals always seem to be engaged in winning the last war; likewise, the recently installed Dutch Council for the Environment and Infrastructure (RLI), has issued a report on yesterday's problems. The subject is the conflict between sustainability and agriculture. The Council uses all its wisdom to argue for a truth that lies in the middle,
Sorry, this review of the sustainable restaurant 'Aan Zee' (By the Sea) in Oostvoorne near Rotterdam is only available in Dutch.
Trucks and even airplanes can run on Liquefied Bio Gas. Jan Cees Vogelaar, an innovative farmer in the Dutch province of Flevoland, and founder of HarvestaGG company in Lelystad, has developed a concept for its production. He envisages twenty liquefaction installations in the Netherlands, in the middle of an area in which farmers grow, refine
3 April 2013