Since 2011, the Caribbean is bothered by seaweed. Large quantities of Sargassum are washed up on the shores. There it rots, depleting the coastal waters from oxygen, releasing hydrogen sulphide and methane. And trapping marine life, coral reefs and fish. Apart from being an absolute nuisance, the seaweed is bad for tourism, on which many people depend. But solutions might be underway: processing the weed to useful products.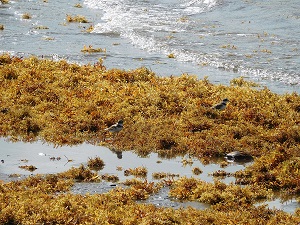 Sargassum, a growing problem
Sargassum, a free-floating seaweed, has altered its course. It used to accumulate in the North Atlantic in the so-called Sargasso Sea. This is a hotspot for biodiversity, the native area of many species including the European eel. But now much of the Sargassum ends up in the Caribbean, particularly in the Gulf of Mexico. Maybe 20 megatons. We don't yet know what caused this new route. But probably runoff from the Amazon plays a key role. In the Amazon basin, farms displace rainforests and fertilizer washes into the Atlantic. Together with rising sea temperatures, this may produce a Sargassum bloom in the ocean – part of which now ends up in the Caribbean. It is clear that removing the causes is a task well over our heads – so we will have to find remedies on the shores of the Caribbean islands and Central America. And the remedies need to be big.
Biomarket Insights recently devoted an article to the activities of C-Combinator and the technologies they develop to tackle this problem. C-Combinator, says its founder and CEO Geoff Chapin to Biomarket Insights, is a public-benefit corporation founded last year out of the Climate Foundation. Its mission is 'to develop solutions for the climate and oceans, deliver value to the island communities and build a commercially success business.' The technology behind what they are doing has been developed for some 8 years now. They intend to collect the Sargassum and process it to valuable products. They also develop a new technology called Marine Permaculture, which allows to grow and harvest different types of seaweed in places they normally don't grow. All with the goal to ally private investment with a commitment to delivering positive public results.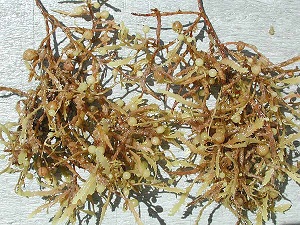 Collection and processing
The problem they face is immense. But this has an upside as well. Upscaling is a major problem to many biobased companies – but as the Sargassum bloom offers huge quantities of feedstock, scaling up is much less of a problem here. Meaning that the company can quickly deliver its products in quantities that the market requires. The company recently partnered with one of the largest Sargassum collection companies in Mexico that gives them access to hundreds of thousands of tonnes. They intend to process it to a number of products. Biostimulants that restore soils and increase crop yields and growth rates. Biodegradable bioplastics. Nanocellulose for use as a moisture barrier for packaging. Hydrogels for use in cosmetics, skin care, and in agriculture to help seeds retain moisture and reduce fertilizer use. Aerogels for use as a lightweight, highly insulative material for clothing and other advanced applications. All products having strong margins and large markets. And they have concluded partnerships to produce these seaweed derivatives.
C-Combinator is determined to serve both public and private goals. Assist local communities in their battle against this new enemy; and build a commercial company. On top of that, sequester some carbon in the process. They receive support from island governments, particularly from Puerto Rico. With their scale of production, they should be able to make a noticeable contribution to solving the seaweed problem. Harvesting the Sargassum will start in 2021.
Interesting? Then also read:
Seaweed biorefinery: much work, high hopes
Algae: researchers move away from energy
Sustainable fish farms
(Visited 967 times, 1 visits today)