The 13th Material Xperience, 'the world's largest multisectoral materials exhibition', will take place 13-15 March in Ahoy, Rotterdam. Tuned towards materials innovation, it will show materials in six categories: architecture, interior, fashion & workwear, product, mobility and graphic & packaging. In each category, there are many biobased materials.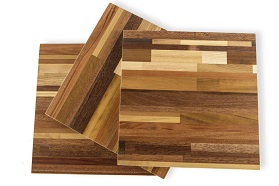 New biobased materials
'Materials innovation is essential for almost every sector of the economy; innovations now tend to cross sectoral boundaries,' the organization's press release tells us. 'Will we be able to charge a smartphone by wearing a dress? Will buildings be printed in the future? Can we produce packaging from our own waste? Will the cars of the future drive on 3D printed tyres?' Material Xperience intends to present an integral picture of multisectoral developments.
Fileo is a biobased laminate, biodegradable and formaldehyde free. The material can take on various natural appearances depending on the plants it is made of. It is also mouldable. The material can be transparent, or printed with a decorative surface. The panels can be produced industrially at big scale or half-handmade, for unique pieces. The surface is resistant to scratches, wear, dry heat and wet heat. Another version, with recycled plastic, is suitable for kitchen and bathroom use. It can be produced from 0.5 to 12 mm of thickness. Fileo can be used for, for instance, interior furnishing, exhibition construction material, and interior architecture applications.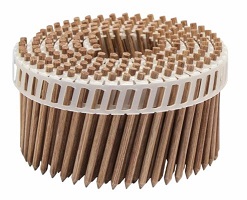 New uses for good old wood
Material Xperience shows products from Herso, recycled wood laminate completely made from wood waste and recycled wood. All waste wood has an FSC quality label. The glue used was developed by Herso and is biodegradable. The floor can be used in BREEAM projects. Herso uses wood from old floors, furniture, cut offs from carpenters and their own. They select good pieces of wood, even small ones, to use in their designs. Iron pieces, such as nails, are also reused, while sawdust is used to make bio-alcohol, cat litter, and compost. Herso only reuses and repurposes wood. Therefore, no floor is ever the same and tells its own story. Your own wood waste can also be used for floors.
And then, wood is the resource of LignoLock wooden nails, developed by Beck Fasteners. These are made from beech wood, compressed with a resin to make them hard. The wooden nails are hardly visible, unlike metal alternatives, and they do not streak or bleed into the wood. After use, the nails can be recycled or reclaimed with the wood itself and no separating process is necessary. Beck recommends using their special LignoLoc pneumatic nailer. Beck explains that the nailer generates a large amount of heat by friction as the nail is driven into the wood. This heat welds the nail with the surrounding wood to form a substance-to-substance bond, something that won't happen when using a hammer.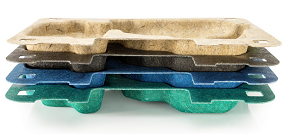 Ancient fibrous materials revive
That hemp is on its way back is demonstrated by various biobased materials made from this crop on Material Xperience. Hemp plants grow fast and they make excellent locally based feedstock for many applications. Jory Swart, a student at the Academie Minerva in the Netherlands, developed hemp panels as the result of research looking for a way to replace wood and plastic. The panels are lightweight and strong, made only from natural materials. The panels can be produced in any shape and size. Dun Agro BV presents hemp concrete, a mixture of hemp fibres, natural glue, and water. Building with hemp has many advantages, as it has great acoustic and thermic insulation properties. Hemp concrete is vapour permeable, and fire-retardant thanks to the glue. And the German company Lightweight Solutions uses hemp and comparable fibres like flax and kenaf for the production of moulded parts. These biobased materials can be used for many purposes, such as cladding and decoration elements for free-form shells of seats and backrests in furniture production, or as a raw support for interior components and linings in the automotive sector. The technical behaviour can be adapted to individual requirements.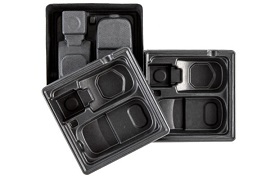 Among the many other biobased materials on Material Xperience, we mention Karta-Pack, developed by PulpWorks. Karta-Pack is a biodegradable packaging material, available in various types, all derived from paper- and agricultural waste. One of it is made from bamboo. Using moulded pulp technology, the material is moulded into the desired shape. The structures are designed for speed and simplicity, so no construction is necessary. Another is made from bagasse, fibrous matter that remains after sugarcane stalks are crushed to extract their juice, creating a biodegradable material. And one variety is made from a cotton/bagasse mix.
And much more on Material Xperience
Much more can be seen and heard. There are six pavilions on the exhibition floor, each with special materials and installations. The organization pays special attention to the latest 200 materials in the collection. Like textiles made from pineapple fibre, hemp composite wall panels, organic photovoltaic materials and 197 others. And there is an extensive lectures program. For more information (and a free ticket), please visit their site.
Interesting? Then also read:
Cellulose nanofibrils pave the way for biobased 3D printing
Bio-Lutions wins Bio-Based Material of the Year 2017 Innovation Award
Fibres of the future: cellulosic fibres from wood
(Visited 59 times, 1 visits today)