The policy in support for biobased energy proves to be an obstacle to better applications of biomass, in the view of BioBTX and KNN, two Groningen based companies. This policy drives upward the price of biomass, to the detriment of biobased chemicals production (less GHG emissions, more added value).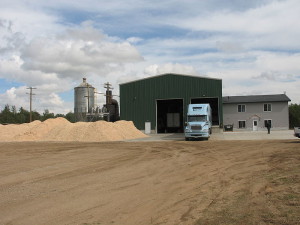 Subsidy and quota schemes have clearly influenced biomass prices. In Germany for instance, wood pellet prices rose from 45 €/ton in 2003 to 90 €/ton in 2010. In Finland as well, pellet prices doubled in this period. The pellet market, in the view of the two companies, would seem to be a world market, whereas in practice it is dominated by growing European imports; Europe has a 85% share in global pellet imports. Four countries dominate those imports: Belgium, Italy, the Netherlands and Denmark; of which the Netherlands are responsible for by far the largest share. The pellet market, inter alia, is clearly distinct from the biofuels market, for which the European Parliament recently set lower ambitions.
A perverse effect of climate policy
The stimulus for firing wood pellets originates from climate policy, and is intended to reduce CO2 emissions. In order to get a clear picture of those emissions, according to these companies, we will have to take into account the whole product chain. And calculations show that it is better to process wood into chemicals than to burn it: less CO2 emissions. But, as we pointed out several times on this site, only direct incineration is supported by policy, not processing wood to biobased chemicals.
This stimulation policy has two adverse effects. Firstly, higher feedstock prices result in worse business cases for biobased chemicals. Although these carry a higher price in the market than biofuels, the difference is not of such a magnitude that the biobased chemicals business case would not be sensitive to feedstock prices. Therefore, both markets are interlinked. Moreover – we recently devoted a column to this phenomenon – government support appears to have a perverse effect. Banks regard government support as an extra security and therefore tend to lend money more easily to subsidised projects. Quite contrary to policy goals: support for non-competitive projects results in less opportunities for competitive projects.
Less GHG emissions at a lower cost
Many policy makers look upon the 'value pyramid' of biobased resources as the starting point for policy in this field. Biomass applications carrying the highest prices in the market should be favoured. The value pyramid clearly shows when comparing market prices. The companies mention a spot price of gasoline of 880 $/ton (US, March 2013), and a spot price of p-xylene of 1 620 $/ton (US, March 2013). Therefore, biobased companies should be better off producing chemicals than fuels: they should reach break-even more easily. But in order to get there, the authors hold, biobased chemicals should get a fair chance, and the biomass market should not be steered entirely to (mandatory) bioenergy and biofuels. For governments, too, the higher added value of biobased chemicals should be interesting, because these need less government support. By stimulating biobased chemicals, it will be easier for governments to realise their goals for CO2 emission reduction, and at a lower cost.
Both companies give yet another example of energy/chemicals competition in the biomass market. They are involved in a project to construct a pilot facility of PHAs, biodegradable biobased plastics. PHA production competes for its feedstock with biogas. Biogas receives government support, but biobased plastic does not. Why would not government support the latter category as well? For instance, by mandatory biodegradability of selected products: some packaging materials, plastic bags (mandatory for some years in Italy now), and microplastics in cosmetics, scrubs and tooth paste. Resulting in a level playing field with other biomass applications.
We would like to second that, and more. Biobased polymers are superior to biofuels in every respect. They result in better CO2 emission reductions. They are more valuable. They are more innovative. Level playing field? An extra stimulus would be more appropriate.
(Visited 1 times, 1 visits today)