Plexiglas emits 2½ kilos of CO2 per kilogram of product, Geo and I find. We looked it up on the internet. Glass is much less CO2-efficient, 8.4 kilos of CO2 per kilogram of glass. Unless one uses recycled glass, then the number is a mere 1.4. And PLA emits just ½ kilo, manufacturers aim to reduce the emission to zero. But then, nothing beats a trip to town. To go there and back, 40 kilometres on an efficient diesel motor (1:20) emitting 120 grams of CO2 per kilometre, still produces 5 kilograms of CO2.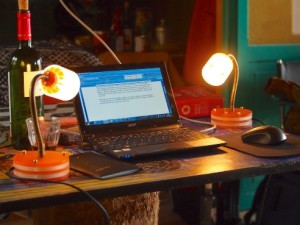 Geo and his wife Magda live somewhere on a Spanish mountain; they are always engaged in living sustainably. The two of them only need one chicken, but they have some thirty of them, because there is much demand for their biological eggs. Spaniards quite enjoy good food, whether there is a crisis at hand or not.
Special fittings
Geo designs and produces LED lamps. He turned a corner of their living room into a little factory for LED lamps. LEDs, so I gather, obey other laws than incandescent lamps and therefore need other fittings. LEDs for instance, should not become too hot. Together we produce a couple of lamps. Using plexiglas as the construction material. Could we do that in a more sustainable way, we ask ourselves. Using PLA, for instance.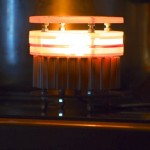 Such questions are a recipe for trouble. Plexiglas is better than glass, we find. It is easier to process, and on top of that it is lighter, meaning that plexiglas should be able to beat even recycled glass on its CO2 emissions. But PLA? In Barcelona, there is a biobased lactate factory, but could one buy PLA there? Having the desired dimensions and colour? Will the workshop that supplies Geo with his plexiglas free of charge (strips of unused material) want to switch to PLA? Will they use biodegradable PLA? And what about Geo's trips to town and back, at which he emits most of his CO2?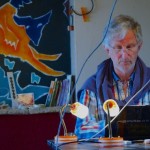 Continuous improvement
Geo is engaged in a continuous improvement program. Years ago, he started to substitute energy-efficient lamps for incandescent lamps. Then, he gave away the former ('they still conserve electricity, but with someone else'), and his entire house now hosts LED lamps. He happily invites visitors to cooperate in his little factory. His products light the village community centre. A woman in town has asked him to design fittings for her house. Presently, he will go and see the mayor, who as a right wing politician should be sensitive to the argument of cost reduction through LED lamps. Perhaps he would agree to use LEDs for street lighting in the mountain village? If the investment could be recovered within a year, he will not even have to set aside money to invest in the work.
Spanish mountains, too, host initiatives for a sustainable and biobased society. They started a continuous improvement program there that has no foreseeable end yet. And internet, in the Spanish mountains as well, supplies interested citizens with all the information they need.
(Visited 1 times, 1 visits today)