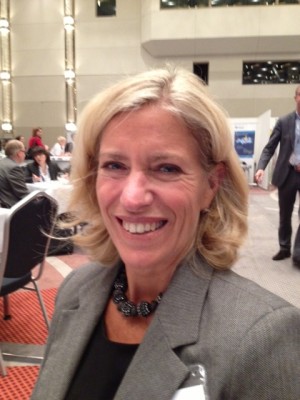 It is just a small company, BioAmber, and it is quite young as well. Yet, is has concluded a large number of cooperation agreements, and many chemical companies are interested. The secret? BioAmber is the first company to offer biosuccinic acid in commercial quantities on the market. Babette Pettersen, VP Marketing and Sales, tells us about it.
'As BioAmber was first to market with commercial scale biosuccinic acid, customers were able to evaluate commercial scale material, qualify and purchase, so that we are commercial today; we are already selling into multiple applications and in all geographies, moving forward very fast, even as a small, young company.'
Multiple partnerships
'BioAmber's business model of open innovation and partnerships contributed significantly to our speed of commercialization, starting with licensing the technology for our first generation organism (E.Coli) from the US Department of Energy (DOE) and partnering with Agro-Industrie Recherches & Developpements  (ARD ) of France to build the first commercial scale plant for biosuccinic acid in Pomacle, the French biobased industrial complex Les Sohettes, which was completed at the end of 2009 and which came on stream in 2010.' Multiple other partnerships have been built since that time to accelerate BioAmber's path to market; from licensing hydrogenation catalyst technology from DuPont to produce Bio-1,4 Butanediol (BDO) from BioAmber biosuccinic acid; to a partnership with Lanxess Specialty Chemicals to develop a new family of biobased, phthalate-free plasticizers
Small and highly technological
'Since then, a high level of market interest for biobased succinic acid has been developed, based on the broad potential for this renewable platform chemical to bring not only an improved environmental footprint to a broad range of applications and markets, but also, to bring differentiated performance at competitive economics. We have demonstrated differentiated performance and the highest levels of renewable carbon in formulations ranging from polyurethanes, to personal care. At the same time we are expanding capacity to meet the developing market demand with a large industrial plant in Sarnia Canada (>30,000 Tons of biosuccinic + >20,000 Tons of Bio-1,4 BDO at full capacity) with targeted mechanical completion at the end of 2013. With BioAmber's exclusive supply agreement with Mitsubishi Chemical (MCC) for the supply of biosuccinic acid for their polybutylene succinate (PBS) biopolymer, a plant is also being built in Thailand to supply the PTTMCC BioChem joint venture, which is building a 20,000 Ton plant for Bio-PBS.'
With all this activity BioAmber is still a small, highly technological company, headquartered in Minneapolis USA, with offices in Montreal, Canada and Shanghai China, as well as a plant in Pomacle, France.
David-Goliath partnerships
'We are today just over 50 people, which is about 5x more than about a year ago,' says Babette Pettersen, who has a recent history of working with DSM Performance Materials in Urmond, and before that  with Dow Corning at their European Headquarters in Belgium. BioAmber's CEO is Jean-François Huc, a French-Canadian, who she calls a visionary leader. They managed to contract a number of very experienced managers from companies like Cargill and DuPont. In addition, they have an excellent Scientific Advisory Board.
At EFIB (of which she is a member to the Advisory Board) Babette Pettersen, who lives in Belgium, made a joint presentation with partner Lanxess, on a new family of non-phthalate succinate plasticizers, produced with BioAmber biosuccinic acid. Lanxess partnered with BioAmber to develop new bio-based plasticizers that offer performant, regulatory compliant and economically viable phthalate-free plasticizer solutions. Another example of a David-Goliath relationship is BioAmber's partnership with NatureWorks, the world's largest PLA (polylactic acid) producer. The BioAmber-NatureWorks JV, AmberWorks is focused on PBS/PLA blends that broaden the addressable property window of PLA, and has created a high level of market interest.
'At BioAmber, we cooperate in many different partnerships. Some of our partners are small, others are market leaders, so we work with both the big guys and the little guys' says Babette, 'and through these partnerships we are able to leverage the best in each business.'
Developments accelerate
'The open innovation and partnership approach has enabled us to be first-to-market with biosuccinic acid, to create interest and to develop the market in advance of competitors. Now we are working hard to maintain that advantage, and further develop the technology and applications to stay ahead of the pack. Based on our progress to date we are fortunate to have a sustained high level of market interest in our products and we have investors and partners that have been with us since the outset; for example, Mitsui & Co. of Japan, is not only an investor; they are also our exclusive distributor in Asia and our joint venture partner for 3 plants for biosuccinic acid and 1,4 Bio-BDO, the first of which is currently being built in Sarnia, Canada, as well as Thailand, and the third at a location to be confirmed . PTT of Thailand and and MCC of Japan are going to construct a 20.000 ton plant for Bio-PBS  in Thailand with our biosuccinic acid based on local feedstocks, tapioca and cassava. In the US, Myarint is building  a biosuccinic acid plant  in Louisiana, Reverdia is building in Italy and Succinity (BASF/ Purac) in Barcelona. These concurrent offerings will help develop the market for biosuccinic acid rapidly, and for BioAmber, biosuccinic acid is just the first in a portfolio of renewable chemicals on offer.'
And there is more to come
Biosuccinic acid carries great promise for subsequent bio based products. With the hydrogenation catalyst technology that BioAmber licensed from DuPont, they have already scaled-up ton quantities of Bio-1,4 BDO in Europe and entered into a partnership with Evonik to develop catalysts for this process. BioAmber licensed technology from Celexion to develop a C6-platform of bio-based chemicals including Bio-Adipic Acid, HMDA, Caprolactam and Caprolactone which open the door to additional, large markets, especially as renewable building blocks for green nylons.
'In other words, the entire market of green chemical products is well under way. The first large building block is being established, and biopolymers and other green products start making a breakthrough. The industry is still in its infancy, but a structure of products, markets and alliances is starting to take shape, as was recently apparent at EFIB in Düsseldorf.' Says Babette.
(Visited 2 times, 1 visits today)