The solutions are here!, talking about major global problems. Solutions that exist already but are not generally applied. Or that are under severe and undeserved attack and therefore receive insufficient support. We have in mind: renewable energy and energy storage, food for 10 billion people, cleaning up all plastic waste and preventing new waste to be created, and the future of our medicines. In all these areas, we already know with what kind of technology we will have to solve the problem.
Alle Bruggink and Diederik van der Hoeven wrote a new book (in Dutch): De oplossingen zijn er al! (The solutions are here!). You can order the book through Biobased Press by paying € 15,95 into our Biobased Press bank account NL88INGB 0005 040787 (from abroad, BIC: INGBNL2A). Please mention the book title and don't forget to add your address.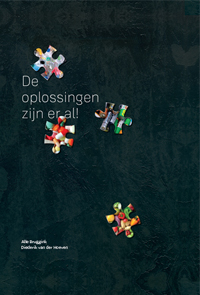 The book discusses a number of global problems and shows that in principle we know how to solve them. Interviews with ten Dutch public personalities complete the book.
Energy: for some ten years we know already that renewable energy can solve our entire energy problem. Solar, wind and water energies can supply enough (and cheap) energy; technologies to match supply and demand have been developed as well. Of course we will have to invest! But all the time, there are clowns who sow doubt; they come up with huge costs or tell us that climate change has been caused by the Chinese.
Plastic pollution: we already know broadly how we should tackle the problem of plastic waste. The first step in the solution is an obligation on chemical industry to take in all plastic waste. Industry knows quite well how to treat petroleum, an even more difficult resource; plastic will not pose any problem if we just don't unduly press the industry. They should be able to work out efficient technologies within a decade. Rich countries should take the lead.
Genetic modification: we know for some time now that genetic modification can make a substantial contribution to improving global food supply. It is a technology like all others. It can be used for the better and for the worse. Even the bastion that the EU has erected around GM starts to show some cracks. We need to stay critical, but at the same time we need to appreciate the major benefits and the new opportunities that come with genetic technology.
Food: we already know how to feed 10 billion people. Higher-yielding crops are important; so is the development and use of new protein sources. Mankind is on track in this issue. Most present-day undernourishment is caused by poverty and war.
New medicines: we already know that we have to keep on developing new medicines. Because new pathogens develop resistance to existing medicines all the time. But in our present-day organization of medicines development, supply of new medicines stalls. We will have to find a solution to that problem.
This book's general message: mankind appears to develop solutions for self-inflicted problems all the time. But then, we do have to support the solutions, not the forces that caused the problems. The authors judge fundamental research to be of the utmost importance. Indispensable for the immune system of our society. For fundamental research creates a large 'knowledge reservoir' from which we can tap new solutions if a new problem pops up. And lo and behold: something useful will come to the surface – it may not be directly applicable, but it could be a good start.
Interesting? Then also read:
Naturally! Of course. How nature never stops surprising us
More with Less, Welcome to the Precision Economy
Green Growth, executive summary
(Visited 11 times, 1 visits today)