On August 5, the Biofuels Digest ran a story on chitosan, an exciting biobased substance with a bright future, almost unknown to the public so far (and unfortunately, also to industry). We highlighted it almost three years ago. Since then, science has gone on and discovered many new applications.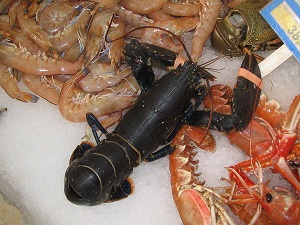 Chitin and chitosan
Chitosan is closely related to chitin, a compound only second to cellulose as the most abundant compound in living nature. Whereas cellulose is a polymer of glucose, chitin is a polymer of the closely related molecule glucosamine. It appears in many forms: rather pure (caterpillar skins), in very thin layers (butterfly wings, with amazing colour effects), together with proteins forming sclerotin (the main substance in the exoskeleton of insects), or in a strong mixture with calcium carbonate (shrimp and crab shells). So for the production of chitin, we just have to collect the abundantly available feedstock, for instance as a side product of crab meat or insect protein production. Chitosan for its part can easily be produced from chitin by deacetylisation. It can be used as a biodegradable bioplastic. It has important applications in agriculture. It enhances natural innate resistance within plants towards insects, pathogens, and soil-borne diseases. It increases photosynthesis and promotes and enhances plant growth. Seeds coated with chitosan have better resistance towards parasitic cyst nematodes and do not harm beneficial nematodes and organisms.
Chitosan as a biomedically active substance
Among the important properties of chitosan is it's biomedical activity: it clots blood easily and has natural antibacterial properties; therefore it has been developed for high-value bandages. In India recently, Dr. Subhasmita Swain at SOA University developed a biomedical patch that can coagulate blood flow in patients. She combined chitosan with turmeric powder, also a substance that is known to have natural antiseptic, antibacterial and antibiotic properties. She processed and then freeze dried the mixture to obtain a porous patch which was found to be working well to stop bleeding.
In a similar development, scientists at Harvard's Wyss Institute for Biologically Inspired Engineering combined the substance with transglutaminase (TG), a naturally occurring enzyme found in the body – where it keeps skin strong and strengthens blood clots. Their research shows that chitosan can be used to bond bodily tissues to repair wounds or even to hold implanted medical devices in place.
Meanwhile in Portugal, scientists combine bioactive glass nanoparticles with chitosan to develop synthetic bone grafts. Bioactive glass is a glass-ceramic biomaterial that binds well to physiological structures such as bone. Research is still ongoing, but preliminary results look very good.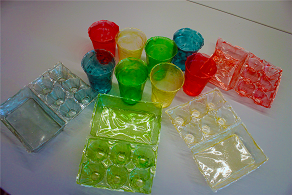 Chitosan for health
Recently, researchers of Colorado State University used it to produce a material that prevents bacterial biofilms from forming. Such biofilms are a threat to public health, as bacteria are much less susceptible to antibiotics once they form a strong film. This is particularly true for Pseudomonas aeruginosa, bacteria that could hardly be destroyed so far. The researchers have now discovered that a copper-based metal-organic framework embedded in a matrix of chitosan will largely prevent the formation of the nasty bacterial films.
The substance also appears to be useful to combat malaria. Researchers in India proved that a spray made from chitosan and silver nanoparticles is effective at preventing the proliferation of malaria-carrying mosquitos. The spray, developed by researchers at Bharathiar University in Tamil Nadu and National Taiwan Ocean University, was sprayed over water reservoirs in Coimbatore. It killed mosquito larvae and pupa effectively at low concentrations, and as an important extra the researchers found the product to be safe for mosquito predators, like goldfishes.
Meanwhile in Brazil, researchers examined the impact of supplementing beef cattle feed with chitosan. The work evaluated whether adding variable levels of it to the animals' diets would affect 'total apparent digestibility, ruminal fermentation, microbial protein synthesis, nitrogen utilization, and urea and creatinine metabolism of grazing beef steers.' The results were favourable, with the researchers recommending 900 mg of chitosan per kilogram of concentrate for grazing steers.
Chitosan as a bioplastic
And chitosan can be used in the form of a biodegradable bioplastic. Nicola Everett, a professor at the University of Nottingham, turned discarded shrimp shells into biodegradable plastic bags. The shells are first boiled in acid to remove calcium carbonate, and then boiled in an alkaline solution to remove proteins. They found that 15 shopping bags can be produced from about 2 pounds of shrimp waste. She suggests that chitosan bags can help solving the major trash problem in Egypt. The country has a large quantity of shrimp shell waste but is strewn with plastic bags because it lacks effective waste disposal systems; only about 60% of the nation's garbage is collected. Everett figures it would make a lot of difference if plastic bags were produced from biodegradable material, extracted from an abundantly available resource. The team is now working on cutting down process time.
The giant may be waking up. Collecting shrimp and crab shells, or insect exoskeletons from insect meal factories, may not be too difficult. Many applications are then in the offing for chitin, and even more so for its daughter substance, chitosan.
Interesting? Also read:
Insect biorefinery: it exists, it works
Nanocomposites, precision materials
Nano3Bio: promising results for chitosan
(Visited 1,136 times, 1 visits today)