This month, NNFCC's newsletter highlighted the launch of two biobased leather products. Isn't all leather biobased then? Yes, but here we mean leather of vegetable origin. The synthetic leather market amounted to $ 26 billion in 2018 and is still growing substantially. In this growing market, the share of biobased leather increases. The new products tap into a desire for sustainably sourced quality products.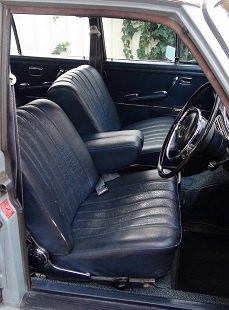 Ultrafabrics' first biobased leather
Ultrafabrics launched a new product: Ultraleather | Volar Bio. The company has incorporated renewable plant-based materials into some layers of the product. They use corn-based chemicals to produce polyols for polycarbonate polyurethane resin. And wood pulp-based materials that are incorporated into the twill backcloth. In the US BioPreferred program, Volar Bio is labelled 29% biobased. The fabric combines subtle organic texturing with a semi-lustrous base. It is produced in a range of colours: grey, brown, rose, taupe, blue, green and orange. Ultrafabrics aims to include biobased ingredients and/or recycled content in 50% of new product introductions by 2025. And in 100% of new products by 2030.
Animal-free leather-like materials by Modern Meadow
Modern Meadow, a producer of 'biologically advanced materials' has developed sustainable biofabricated materials inspired by leather. They partner with Evonik, the major company of speciality chemicals, to bring its production to commercial scale. Modern Meadow's technology produces animal-free collagen, a protein naturally found in animal hides, via a fermentation process using yeast cells. The start-up will be based in Nutley, New Jersey, USA. The material, called ZoaTM will be produced in a variety of shapes, sizes, textures and colours.
The main component of this biobased leather is collagen, the main structural component in cow hides. Therefore the resulting material closely resembles animal leather. Collagen has many forms and applications that go beyond leather-like materials. As the most abundant protein found in the human body, it has many pharmaceutical and medical applications. Collagen promotes the healing of wounds, guides tissue regeneration and can revitalize the skin, areas in which Evonik has research activities. The production of ZoaTM will create opportunities to produce biobased leather with new properties, such as lighter-weight options, new processing forms, and patterning. Modern Meadow is developing both leather-like composites, which allow for superior mechanical properties, and non-composite materials.
Interesting? Then also read:
New biobased materials will carry the breakthrough for the biobased economy
MaterialDistrict Rotterdam 2019: imaginative new materials
Bio-Lutions wins Bio-Based Material of the Year 2017 Innovation Award
(Visited 404 times, 2 visits today)