Many biobased chemicals and biobased materials suffer from low fossil energy prices – but materials with new properties are still in demand. This was the general opinion at the 9th International Conference on Biobased Materials, organised by nova Institute and held in Cologne last week. So the conference delivered a strong message to biobased industries: look for the extra functionalities of nature-based substances, instead of trying to compete on price. The newly elected biobased material of the year, Touch of Nature™ by Orineo, is a bold statement to this effect.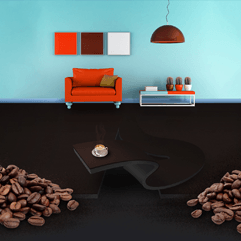 Biobased materials with new properties
Low oil prices also push typical biobased platform chemicals to the forefront (instead of drop-ins), said prof. Thomas Farmer from York. And festive speaker Dr. Christian Patermann, also referred to as the father of bioeconomy in Europe, said that the bioeconomy is challenged by low oil prices just as it is very gradually nearing its adulthood. The bioeconomy is in a very challenging transition, he said, still on its way from niches to norm. This is a period associated with shocks and setbacks, in which companies involved have to forge unusual alliances. Those involved should always keep in mind that the bioeconomy is primarily knowledge-based, and that it also includes areas like the life sciences, 3D-printing, the CO2 economy and digitalisation. In order to build a strong bioeconomy, Patermann said, we should never ignore any of the four f's: food, feed, fibre and fuel. In order to gain success, all four should be kept in balance.
Organising nova Institute's press release also stressed that many new biobased materials and fine chemicals have 'new functionalities and properties.' And it added: 'the winners of the award are nice examples of this new generation of biobased products with improved features.' The conference's advisory board had nominated six biobased materials. Each nominee introduced its innovation in a short 10-minute presentation. The participants to the conference then elected the three winners.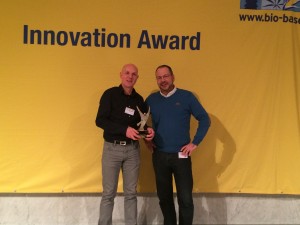 Biobased floors, surfactants and PUR components
A well-deserved first place was for Touch of Nature™ by the small Belgian company Orineo. Orineo developed a material consisting of a mainly biobased two-component resin filled with biobased materials like coffee grounds, ground cork stoppers, berry seeds, or olive leaves. Each of these fillers rends a different look to the material. These biobased materials look good, feel warm and perform well. Even though partly being made from waste materials, they radiate a sense of luxury. As Orineo says on its website, Touch of Nature™ is designed to appeal to the brain, the heart and the guts. It is now commercially available for seamless floors, and for table and furniture surfaces.
The second place was for REWOFERM® SL 446 by the German company Evonik Nutrition & Care. This is a novel sophorolipid-type biosurfactant. It is made by fermentation with a natural, non-GMO yeasts using European sourced sugar and oil feedstock. It has a low carbon footprint, is virtually non-toxic and is completely biodegradable. It also behaves as a super-mild surfactant to the skin. The substance is intended to be included in cleaning fluids. REWOFERM® SL 446 will increase both the performance and the ecological footprint of hand dish wash formulations.
The German company Covestro won the third prize for its Impranil®eco. This is a biobased waterborne polyurethane dispersion for textile coatings. This agent will raise the content of renewable resources in polyurethane dispersions (PUDs) up to 65%. This makes new levels of sustainability possible for PU synthetic materials (footwear, garment, accessories…). Impranil®eco is not in direct competition with the food chain; it can be used in every layer of the production of synthetic materials or coated textiles; and it is a drop-in of existing Impranil® PUD types, i.e. low reformulation efforts.
Biobased materials will continue to push forward, based on new and improved properties they carry, not on their price. Just an example of the continuous flow of news on new biobased materials: bioplastic enhanced with eggshell nanoparticles could make better packaging materials. We just witness the start of this development.
(Visited 2 times, 1 visits today)