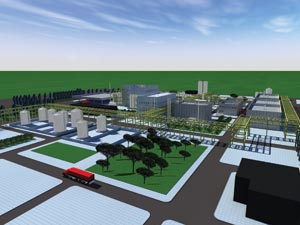 The bioeconomy is regional in nature, and now Europe has discovered that, too. At a 'hearing' in Brussels it became apparent that the new wealth will be rural in nature, and will be created locally. The region will take preference over the national state.
'I am a regular visitor of these meetings, but this is the very first time that the Commission really takes a look at innovation in the regions. Not the regions in faraway places in Europe with an economic backlog, which need financial support, but real innovation in regional bioeconomy.' Said a consultant who participated in this Brussels meeting on 'Partnering for the Bioeconomy in the European Regions', co-organised with the 'Committee of the regions'. Quite a mouthful, but apparently the Commission really intends to listen to what corporations and financial institutions had to tell about rural green investment. There were a lot of European civil servants, and many delegates of companies from all 27 member states. The EU bioeconomy (European shorthand for agriculture and all industries based on it) already has a turnover of nearly €2 trillion and employs more than 22 million people, accounting for 9% of total employment in the EU. Said Rogier van der Sande, rapporteur for the Commission of the Regions, and member of the Executive Council of the Dutch province of South Holland. A matter of definition of course, but in the end quite a lot.
Regionally, people participate better
European regional policy therefore is important indeed, and it is new, for until now we had CAP, Common Agricultural Policy, which had quite another focus. On subsidies, mainly. Rural investment is somthing completely different indeed. Rural investment generates an extra income for farmers who collect agricultural waste, pre-treat it, and process it in medium sized factories – no longer those gigantic chemical installations – in their neighbourhood, and making products for other kinds of markets. Taking that as a goal, how do we realize it? How do we finance it? How do we unite people in such a venture? Local population would participate much more. Hence, after lunch not only financial giants like the European Investment Bank, but also smaller private venture capitalists took the floor.
One of the finest examples, of course, is Les Sohettes in Northern France, in Champagne-Ardennes and Picardie, which originated from a local initiative. A farmers' cooperative invested at least one million of the participants' own money, in 50 years' time. The site now houses two biorefineries, an ethanol plant and a succinic acid installation. In full operation. Or the wonderful Matrica project in Northern Sardinia, coordinated by Novamont. In a possibly still medieval society, they construct a € 450 million biobased complex, consisting of seven green factories and a technical centre, employing a workforce of 680, with all local side-effects which such a project will entail. Some European civil servants could hardly believe their ears. Neither could I, as a matter of fact. There were more examples, but I judged these to be the best.
A green and self-sufficient Europe
Another interesting example was from Denmark, where Dong Energy plans to build a straw-fired power station, mainly fed by regionally produced straw. The local farmers, being intelligent traders, immediately raised their straw prices. Like someone said: 'farmers are the smartest entrepreneurs'.  Quite so, and if they grasp the message, the European biobased economy will make a take-off, and we will not need the old-fashioned CAP anymore; instead, we can use subsidies directly for new investments. If we would care to invest in regional ppps'es, we would get the following picture: regional industrialization, new regional employment, an extra income to the farmer, a much greener Europe, good export products; not to mention export of scientific knowledge. No more crisis. Too good to be true? Not at all, but then we will have to lend predominance to the regions above national states in the biobased economy. This is a message which the European Commission is beginning to grasp, as shown during that meeting in Brussels, Friday 12 October.
(Visited 7 times, 1 visits today)