New biobased materials pop up everywhere these days. On the basis of organic materials, often processed with modern chemical technologies. They seem to be able to substitute many fossil-based and mineral materials. Just a few of these innovations.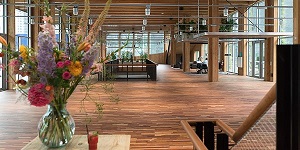 Natural materials from local resources
One portfolio of new biobased materials that drew our attention was developed by the Columbian company Fiquetex. These materials are made from the fique plant and the rubber tree. Both plant and tree are autochthonous to Colombia. The fique plant grows in the Andes Mountains and the rubber tree is originally from the Amazon basin. Fiquetex's patented non-woven textile materials are all biodegradable. They can be applied in many markets, like packaging and vegan leather for the automotive and shoe industry. The company's founder Alejandro Moreno lived in Great Britain for a long time, where he witnessed that on the one hand there is much talk of a circular economy; but that on the other hand nothing much is done about the on-going plastic pollution. He developed materials produced from local Columbian resources, that are sustainable, renewable and above all, compostable. Among his first products are carrier bags and 'the world's first shoe made with 100% natural materials.' Ready to be marketed.
New biobased materials are also highlighted by MaterialDistrict, a company that shows new materials in general, with many biobased materials among them. Recently, they remembered us of floor materials. One of these is the Herso floor, made from reclaimed wood. Even though wood is biodegradable, it may still be wasted. Herso uses reclaimed wood to make new products, from furniture to floors. They use wood from old floors, furniture, cut offs from carpenters and of course their own, glued together with a biodegradable glue. They don't sell their products but rent them out – a sustainable scheme because it allows the company to produce new biobased materials from the abandoned ones. Quite comparable is the mock terrazzo wooden floor produced by Foresso. They reuse abandoned timber and create with it timber and sustainable floors with the look and feel of marble.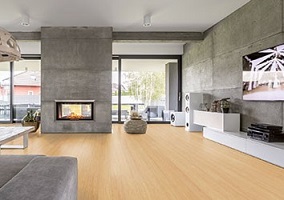 Berry seeds
And then, there is the MOSO company that sells a whole range of bamboo products. Bamboo, they tell us, is considered to be the fastest growing plant on earth. Bamboo reaches an incredible hardness: it is many times stronger than oak or the still popular but endangered tropical hardwoods. MOSO sells bamboo in the form of floor planks; in various widths, colours and densities. For each market, ranging from domestic to professional. In addition to that, they use bamboo in a whole range of products, varying from walls and panels to outdoor products. And motor car dashboards and ceilings.
New biobased materials are produced in large numbers, as testified to by the yearly 'Biobased material of the year' contest organized by nova Institute. One of the recent winners is Touch of NatureTM by the Belgian company Orineo. A material consisting of a mainly biobased two-component resin filled with biobased materials like coffee grounds, ground cork stoppers, berry seeds, or olive leaves. Each of these fillers rends a different look to the material. Another winner is Bio-lutions, a company that produces sustainable packaging and disposable tableware made of agricultural residues. Their technology enables them to use the fibres from most of these residues found worldwide. Their goal is to create a decentralized production network with local factories and regionalized distribution.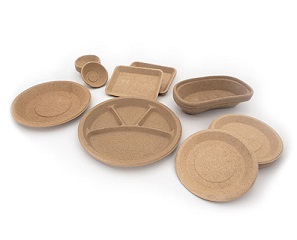 New biobased materials are everywhere
Vegan leather is popular among companies that develop new biobased materials. Among these is Biophilica, a company that develops TreekindTM, made from leaves. Then there is Pinatex that produces a leather-like material from pineapple leaves, used among others in NAE Vegan Shoes. Fruitleather Rotterdam produces leather-like materials from old mangos. Komrads on the other hand makes shoes from apple leftovers by the apple juice industry. These examples come from the site Scientias.nl.
To the interested observer, new biobased materials are everywhere. We often shed light on them on this site. Like on mycelium, that can be used for many modern purposes, from packaging to construction. Old biobased materials can be repurposed by modern technology; like straw, that can become an excellent construction material. And timber, that allows much architectural freedom if treated industrially first. And that can even be used for the high-rise buildings of the future. Biobased innovation is everywhere. It will make an impact on our construction techniques and even be felt in our daily lives.
Interesting? Then also read:
Biobased leather
Biobased materials and chemicals driven by performance
Waste is the most important biobased resource; but legal barriers abound
(Visited 396 times, 1 visits today)