Imagine a highly-urbanized city where wood is the icon of its skyscrapers, structures in timber towering over iron and concrete tall buildings. It is a vision that does not only challenge the popularity of steel construction but also sets a significant take on sustainability in the form of a creative design. The best part is: this blueprint is now in the making. All to raise the value of wood as a remarkable material.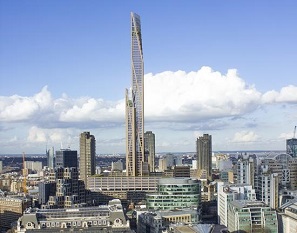 The University of Cambridge Department of Architecture, with PLP Architects and engineers at Smith and Wallwork, laid-out a conceptual 80-storey 300 metre high building plan that is structurally made of wood. This proposed multi-purpose tower houses over a thousand contemporary residential units. Its renowned engineers and developers intend to use the latest engineering method in timber construction. Plus, they work on formulating a design technique apart from the usual steel and concrete building. Historic and ground-breaking as it is, the mid-rise timber tower will contribute a 1 million square feet area to London's Barbican estate. Mayor Boris Johnson could not have been more proud and elated to approve this biobased and soon tallest wooden architectural feat in Europe.
Timber and the sustainability factor
The use of timber may not be new to tall building construction but interests in developing this material continue to draw from its varied benefits, largely its positive environmental elements. Wood is a renewable resource. With sustainable forest management, the tree used for construction produces a sufficient supply of wood all year round. Allowing them also to mature before harvesting will give the industry a span to plant in new trees in their place.
Reduce CO2 emissions
In our struggle against CO2 emissions, two carbon reduction methods must be in place: reduce emission and remove or store CO2. Wood has the ability to do both. During production and processing, wood leaves a very low carbon footprint as it uses little energy to grow. Steel and concrete, on the other hand, consume much energy in their production phases. If and when less steel and concrete are created due to the rise of timber-made buildings, the world will be spared from a 14-31% global CO2 pollution. Wood is also known to effectively sequester carbon. One square metre of wood reduces CO2 equivalent to what a large amount of concrete will do. Using this as a material for colossal structures will reduce carbon dioxide emissions. The proposed tower uses 65,000 m3 of structural timber, which would lock in a staggering 50,000 tonnes of CO2 from the urban surroundings.
Noted building contender
There's more to wood as a construction material than simply being big on environment aspects. Wood is inherently a very versatile building material. Take its strength. Wood is a naturally strong material. With studies and innovation from Cambridge University, the proposed timber tower demonstrates an engineering power that will not simply make it stand, but in the words of Dr Michael Ramage, erect wood 'at a scale no one has attempted to build before.'
Living in wood is healthy living. As a natural material, wood promotes healthy living conditions. Timber-made buildings maintain the right humidity balance and warmth fit in a European setting. It is also easier to clean and maintain. With its artful designs, timber buildings create a soothing and sociable environment against the busy urban environment. Durability, sound insulation, popular appeal, and lightness, also contribute to wood's prominence as a construction material.
Biobased design
As a first in a series of tall timber constructions, the wooden tower to be developed garners anew the architectural industry's attention to the green economy. A growing number of building developers will cater to a sustainable view on materials without making do with typical designs. As wood is highly bent to creative forms and acrobatic aesthetics, there will be a growing world of opportunities for biobased and artful buildings. The 21st century will witness a new era in architectural design and urban plans.
(Visited 107 times, 1 visits today)