Whereas the artificial hamburger has been launched with a lot of fuss a few years ago, artificial seafood has been developed in relative quiet. But it may come to the market much sooner. Texture and taste seem to be good, already. Prices come down fast. But will the consumer like seafood from the lab?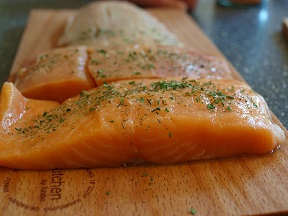 Seafood from the lab
At the basis of these products stand real fish cells. Let's take salmon, a preferred species in this branch. Companies harvest three kinds of salmon cells that represent muscle, fat, and connective tissues of the fish. Then they grow the cells in bioreactors, stainless steel tanks. They feed them with the appropriate mixture of nutrients: amino acids, salts, lipids, sugars and vitamins. And out comes an 'unstructured' product, more or less like fish paste. When researchers add a 'scaffolding' consisting of collagen, muscle and fat cells can grow on it, creating structured salmon meat in the form of steaks and fillets.
This production pathway offers several benefits. Seas are heavily overfished these days. Wild fish stocks continue to decline. In the case of salmon, most fish is now produced in salmon farms but these are wreaking environmental havoc on coastal ecosystems. Seafood from the lab may take the burden off our assault on this natural bounty. Moreover, producing fish meat along these lines is more efficient than producing the original, as we don't have to produce heads, tails, bones or scales that make up 40-60% of the fish. And finally, the product will not contain environmental contamination like antibiotics, mercury and microplastics.
Many start-ups
Among the companies venturing into this field, BlueNalu seems to do particularly well. Based in San Diego (California), BlueNalu has been working to bring to market its own seafood from the lab since 2017. Early this year, they announced that 'visionary investors' including the Saudi company KBW Ventures, will fund the company with $ 20 million. The company will use this financing to develop a pilot production facility, expand its worldwide staff, implement strategic alliances for global operations and prepare for its market launch. This may happen around the middle of 2021 (FDA clearance allowing), Lou Cooperhouse, CEO of BlueNalu, told Digital Trends.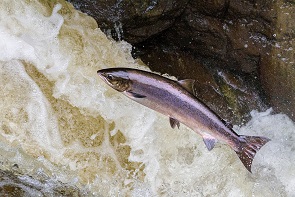 Finless Foods, a biotech company located in San Francisco, is on this market too. Beginning 2017, it's been working to bring to market a species of cultured bluefin tuna. It produced its first pound of tuna meat for a cost of approximately $ 19,000. But it's been working hard to bring that price down to regular market prices (roughly $ 40 per lb.). And then, Wild Type, founded in 2016, is another California-based start-up. It likewise focuses on salmon. Wild Type also has yet to release its first product.
Finless Foods co-founder Michael Selden told AquacultureAllience that fish meat is easier to grow in a lab than land-based meat. 'That's partly because fish live underwater at cooler temperatures – unlike land animals, fish cells don't require carbon dioxide inputs in order to grow. Fish cells can also be cultured at a lower temperature, reducing heating costs, and are more tolerant of temperature variation.' Moreover, he says, 'we can cut down on mislabelling, we can cut down on food spoilage and we can cut down on food-borne illnesses, as well as travel time. We can produce this in the centre of cities, instead of hauling it inland from the ocean.' And by using cells, companies like Finless Foods can produce seafood made to order.
But will people accept and like the product?
Then, there is HATCH, 'the world's first sustainable aquaculture accelerator program seeking to find, develop and scale disruptive aquaculture start-ups'. This company, based in Bergen, Norway, believes 'in a sustainable aquaculture industry capable of meeting global demand'. It therefore invested in Finless Foods. It offers mentoring, financial support, product development, industry connection, office space and know-how to companies in this sector. And in Singapore, start-up Shiok Meats, founded by scientists Sandhya Sriram and Ka Yi Ling, develops cell-based shrimp and seafood. They use stem cells to make real seafood meats. They stress that their product is clean: free from antibiotics, heavy metals, microplastics or animal cruelty. 'Minced shrimp is a big market so we are working on that first,' says Sriram to the South China Morning Post. The company aims to begin selling its first product, a cell-based shrimp dumpling, in Singapore by the end of next year, and has plans to expand to Hong Kong, India and Australia.
Still, the million dollar question is whether consumers will accept and like such seafood from the lab. It may require a special marketing strategy. Wild Type has its ideas about this. It told Digital Trends that it is 'actively engaging with a broad community of chefs, restaurant owners, and food lovers on potential applications' for its 'cellular fish'. In other words: sell seafood from the lab as a specialty product. The general public may then follow. In view of the sustainability benefits that these products carry, let's hope they will succeed.
Interesting? Then also read:
Sustainable fish farms
Can we engineer life? Animal gene technology, AquAdvantage GM salmon: the gene construct
Omega-3 fatty acids produced from corn by marine algae
(Visited 8 times, 1 visits today)