Daan Bruggink is one of the standard bearers of sustainable architecture in the Netherlands. If anything, he insists on building based on nature: 'We at ORGA Architects first consider natural forms,' he says. 'Second, we consider natural techniques such as biomimetics and biomimicry. To give an example, the skin of a polar bear is black while the bear seems to be white. This is because the hairs are transparent and let the sun through: a very interesting technique. Third, we consider the materials: natural materials naturally contain natural principles. And last but not least, biophilic design.'

This is the first in a series of four articles based on an interview with Daan Bruggink on sustainable building. The articles appeared on 19 and 25 September and 10 and 16 October 2016.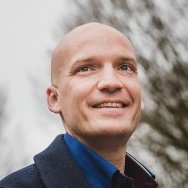 'You can make a naturally formed building, with natural materials and techniques, but without windows nobody will want to live or work there. So the atmosphere of our environment – which can be found with plenty of green, daylight and moisture – forms a natural 'biophilic' design and acts on biophilic sentiment (of which there are 14 categories described by Terrapin Bright Green). If you have based all of these four aspects on nature you have the ultimate building. And of course these four principles contribute to one another: for example, natural materials tend to breathe well and regulate moisture, which suits with biophilic design based on natural techniques. This makes for very pleasant buildings to live and work in.'
How did ORGA come into being? I used to want to become a biologist, but chemistry was not my strong point. My second choice was to make buildings: building like nature does. During my studies to become an architect I started my own company, in 2002-2003. This was ORGA. It started small: with refurbishments, expansions and these kinds of jobs, but it quickly expanded and in 2007 I had enough work to spend all my time on ORGA. The most important jobs that got me going were private homes. That's because private people are the first to say, I want my home to be healthy and pleasant to live in, made with natural materials. But this has grown into other jobs: I have also designed a dentist practice, and I'm now working on buildings for social housing, healthcare and recreation.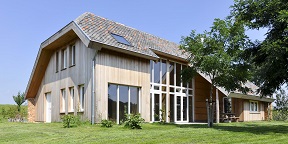 Construction methods
Another type of buildings that is increasingly turning up as projects for us are (state) monuments. Those are very interesting. People tend to say, "That's impossible [to make sustainable], it's a monument!" But especially with monuments this is possible. Because the older the materials, the cleaner and healthier they are. It's not until after the Industrial Revolution that we started using fossil materials, so everything built before that is made out of brick, wood and glass. So what I do is, I take the 'bad' materials out and replace them with suitable natural materials. To give an example, at the Hunting lodge Beukenrode in Doorn (Nl) we couldn't isolate the walls or replace the windows, let alone make holes to implement modern techniques. We had to be more creative, so we ventilated with building with old-fashioned sliding window techniques and retained the thick cast iron radiators. When people go to a monument, they want to burn their rear sitting next to one of those radiators, or else they'd have gone to more modern place! And since it is a lodge with surrounding land, we installed a wood-based central heating system. One of those large units that works on woodchips from the estate. Well, then your source is sustainable, so you can burn as much as you want. This brought us from energy label F to A: in a natural manner, the way it used to be and energy-efficient.
When we build something we try to use as much of these natural materials as possible, says Daan Bruggink. The most important thing is to have a pleasant environment, based on biophilic design. Then you don't want plastics in your façade, for example. With our way of building you aspire to as natural as possible. That is our area of expertise. Of course there are the constraints of a budget, and then you look at the materials you use, trying to base as much as possible on natural materials. But for foundations and floors for example it is (too) often inevitable to use common styrofoam; and in very moist areas natural materials like wood are not a good option. We have to remain practical.
Daan Bruggink: theory and practice must inspire one another
Where do you find knowledge and inspiration? The key is to have a helicopter perspective on things. I read a lot, and I have developed an antenna for what lies just off the well-traversed roads. By combining the practice of constructing with giving lectures I work at several scales simultaneously, which keeps things interesting for me. If I were to only give lectures things wouldn't be right. I don't understand the people who do this, at some point you just grow out of touch. The same goes the other way around though: to only make buildings would be just as boring, and then you miss the bigger picture.
If you stay within only the world of construction you cannot move ahead, or you hear about new things much, much later. The construction magazines are only now reporting on biofoam, while the stuff has been around for ten years already. You have to keep looking outside of your own area of expertise and talk with other parties. And of course nowadays I find much comes my way because people know me and send me things. That keeps you on your game. I don't stay with one concept but look at what I can take from it and try to apply those things. For example I have looked at bone structures. And then I don't mean the shape of bones: the strength of bone resides in nature removing all the superfluous material. Another interesting example is the earth ship. That concept has developed in the desert, with people building houses with car tires. I wouldn't want those tires in my home, they contain softeners and more of that kind of nonsense. But the forms, the choices, the design; for example that a cabinet has exactly that size and that position; those techniques are incredibly interesting. If you look around there's a lot of opportunity to develop your own body of thought.
(Visited 20 times, 1 visits today)