With great sadness we announce that Paul Reinshagen has passed away, one of the founders and editors of this website. He died this week, 78 years of age.

Paul Reinshagen was a happy man. All his life, he had the opportunity to do what he was good at and what he liked: writing an article. Preferably 'red-hot' columns in which he told the truth to the world. Then he grabbed his iPad and started writing. He did so during his entire life, he devoted himself heart and soul to his work as a science journalist. He was the deputy editor-in-chief of the national chemical weekly, then the editor-in-chief of the national engineering weekly; after that a freelancer, for thirty years. Devoting himself, the last six, seven years, to that wonderful subject the biobased economy, that caught our mutual attention. A theme with the promise of innovation and of hope for the future. He summarised it all in the last piece he wrote.
'How should we shape our future society without fossil fuels? Can my home country, the Netherlands, lead the way as has become part of our national self-image, or do we lag hopelessly behind? For if we succeed in restricting temperature increase to two degrees, we are faced with the next challenge: how to produce enough food and materials, without having at hand fossil fuels (and their pollution) to fuel this society? It won't be easy to leave behind us the era of high temperatures, high pressures and pounding processes and move forward to precision technologies for making specific products, to the minute (even at the scale of atoms) and to an overarching form of decentralisation. All of them subjects not yet familiar, not in the least how to perform them with the minimum of waste, let alone how to do that in a circular way.'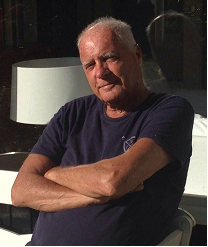 'That does not hold true just for the biobased economy (although that is our main subject: food and materials), but for all areas in which we would like to make progress: chemical and biotechnological catalysis; precision agriculture, horticulture and cattle breeding; genetic modification; water use; synthetic biology; robotics; artificial intelligence; computer technology etc. They all require much research and they are mostly terra incognita to us. Even if we have operated with them for quite a while, our insight often still lacks the theoretical quantum mechanical basis.'
'Whoever reads this will understand right away that future society will be very different from our present one. From a scientific point of view, our present society is a coarse model compared to where we will move, when we will make use of every single fibre from agriculture, and design all products in an optimal way, with the circular economy as the ultimate solution.'
That is Paul Reinshagen for you, in an introduction he wrote for our new book More with Less on the precision economy, the successor to our book Green Growth (in Dutch), to be written in cooperation with Alle Bruggink. Paul was convinced that the world of tomorrow will be very different from the present one. We will have to leave behind us the 'pounding processes' of heavy industry; industry could become small-scale and circular. Mild chemical processes could enable us to produce precision materials from agricultural side streams. No more waste. We could produce energy locally and use local agricultural produce as our industrial feedstock. Industries could be relatively harmless; they can be situated near their feedstock 'suppliers, the farmers. Rural areas could become the focus of economic activity once more. The future might be small-scale and technologically very advanced. Paul was very keen to know if and how fast this future would come about – he had wished so much that he had had the opportunity to live on, in order for him to witness to what extent this vision would be realised.
Paul Reinshagen was not just a good colleague, the better journalist of the two of us. He was the excellent companion, always open-minded, always enthused, always keen to know what the future would have in stock. A liberal and a freethinker at heart, a generous and warm man. I will always remember his open-mindedness and his generosity. We will miss him.
(Visited 3 times, 1 visits today)