Policy makers who aim to stimulate innovation, in the biobased economy for instance, sometimes exaggerate the importance of higher education. But getting innovations to be successful in pratice is highly dependent on skills that students learn in secondary and higher professional education. In the North of the Netherlands, they have grasped that truth.

Groningen State University (RUG) has erected Biobrug. This is a transfer organisation that assists companies that want to solve problems in the fields of energy and materials which involve biotechnology. Recent Biobrug research shows that the green economy is strong already in the Northern part of the Netherlands, employing well over 25 000 people.
HanzeHogeschool, an organisation for higher professional education, elaborates on this initiative. Within its Institute for Life Science and Technology, it aims to enlarge its research program to bio-inspired and biobased innovations, which might result in a new professoriate. The institute will enrich its program with new (minor) educational courses. Moreover, it would like to invest in advanced technology and build a multi-purpose pilot biorefinery. They call this pilot plant a quadruple helix cooperation between education (higher, higher professional and secondary professional education), research, business and the government. Students cooperate with entrepreneurs and researchers in order to think up, develop and produce on a pilot scale, biobased products and services.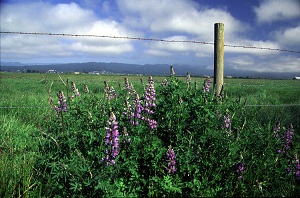 Three development pathways
In order to develop these projects, HanzeHogeschool has appointed Rob van Haren. He former position was director of Kiemkracht, an alliance of the national farmers' union and the ministry's innovation agency. Kiemkracht was involved in the development of the Vegetarian Butcher, Greenfertilizer, SmartBot and LupinSilver. Rob will investigate three possible development pathways with a common focus on functional ingredients. The first pathway involves green ingredients, valuable vegetal components and process technology for health, cosmetics, food and lifestyle. This pathway has a clear link to the Northern strength of Healthy Ageing. Its icon is the lupin bean. The goal of this pathway is to develop high-value food products like meat substitutes from ingredients of the lupine pea, like proteins and soluble food fibres. The second pathway involves development and deployment of biobased composite materials and high-value biobased materials. Flax and hemp are promising natural fibres that could substitute glass fibres. The third pathway involves the decentralised use of sustainable solar and wind energy for small-scale production of resources like green fertiliser and green fuels, using reverse fuel cell technology.
HanzeHogeschool Groningen will seek as much cooperation as possible with the local knowledge centre for entrepreneurs. In this way, Life Science students and enterprises will have the opportunity to develop start-ups, new business and new products. HanzeHogeschool aims to stimulate the green economy in the Northern Netherlands and contribute to a societal transition towards a green circular economy. Much knowledge is available already, SMEs need to valorise it, and this type of education and research is precisely what they need as a backup.
(Visited 1 times, 1 visits today)