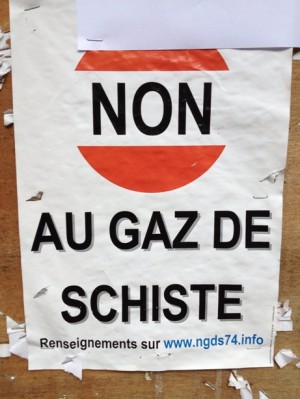 Most posters against shale gas have disappeared from the streets and the municipal poster sites. Some cars still show them. But resistance has not faded away.
Earlier articles on shale gas appeared on 12 July, 9 September, 17 September and 16 October.
In the Cevennes, the mountainous area in mid-France, the spirit of resistance still prevails. In the eighteenth century, the Protestants found a refuge here, after their defeat against Louis XIV. Later, the maquis hid here. And as imagination did not come to power any more, after the failed student revolt in 1968, many hippies and revolutionary students moved into the Cevennes to become goat famers, selling their pelardons on local markets. They still are there, the 'soixante-huitards', they show by their grey ponytails and peaceful appearances.
Water shortages
But what if oil companies go drilling for shale gas in this area? Michelle has become a member of a local committee against test drillings. They exchanged telephone numbers across the area. At the first sign of large scale activities they will gather. Shale gas drillings cannot be secretively done, they are inherently large scale and very visible. And although the government has postponed all activities here, the people do by no means feel at rest.
We know the objections. Michelle may greatly exaggerate problems relating to ground water pollution. These are very much dependent upon careful procedures by the drilling company. But water problems are quite another matter. How could a drilling company extract major volumes of water from an area which is always short in water? Months without a drop end in days with 100 mm rainfall, one eighth of yearly precipitation – as a result of which the rainfall is drained away as quickly as possible, and groundwater levels always stay low. Climate change just exacerbates this problem. Government constructs basins in order to retain rainwater, but this is not sufficient for relief in the years to come, even without the increased demand for water as a result of shale gas drilling.
And while Gérard, a supporter of the leftist presidential candidate Mélanchon, incessantly completes her observations, and I from experience moderate my pastis consumption, Michelle asserts that they will remain vigilant. They will not allow it to happen. Even with present unemployment levels. They will defend the unspoilt rural area.