Dit evenement is voorbij.
5th World Congress on Catalysis and Chemical Engineering
5 september 2018 @ 08:00

-

6 september 2018 @ 17:00
ConferenceSeries Ltd is overwhelmed to announce the commencement of 5th World Congress on Catalysis and Chemical Engineering  , which is to be held during September 5-6, 2018 at Tokyo, Japan.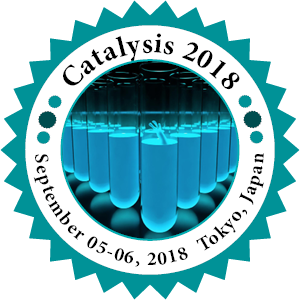 On this great gathering, organizing committee invites participants from all over the globe to take part in this annual conference with the theme "Innovation and Integration to Shape the Future". Catalysis 2018 aims at sharing new ideas and new technologies amongst the professionals, industrialists and students from research areas of chemical engineering to share their recent innovations and applications and indulge in interactive discussions and technical sessions at the event. The conference will also have a space for companies and/or institutions to present their services, products, innovations and research results.
Catalysis 2018 involves the tracks like chemical engineering, advanced chemical engineering thermodynamics, organic chemistry, chemical reaction engineering, petrochemical engineering, biochemical engineering, heat transfer and mass transfer operations, solid fluid and fluid flow operations, fuels and combustion, polymer technology, nanoscience and nanotechnology, wastewater engineering, chemical engineering economics and plant design, process equipment design, plant utilities and energy efficiency, industrial pollution and control, environmental pollution control and safety management, catalytic process engineering, catalytic reaction engineering
Importance and Scope:
Catalysis 2018 plays a vital role in our lives because of its uniqueness in properties and extended application in various industries. These are the basis of modern science and technology. Chemical Engineering is at the heart of many technological developments that touch our lives and find applications synthetic replacement for those resources as well as materials that are low in supply. In overall, it can be said that chemical engineers will be able to make very crucial contributions to the improvement in addition to the maintenance of the quality of our lives. Chemical Engineering techniques are used for the production of usable, high quality products such as fibres, fabrics, paints, medical drugs, biomaterials, gasoline, lubricants etc used in various industries such as textile, food, plastics, automotive, aerospace, petroleum, oil and gas, biomedical, biotechnology and pharmaceuticals, thereby increasing the scope of Chemical Engineering.