'The chemicals and materials industry is going to see more dramatic change over the next 20 years than it has in at least the last 50,' says Anthony Schiavo, Senior Analyst at Lux Research. They just completed a report on start-ups that are going to disrupt the chemicals and materials industry. Any company in the sector should be aware of these changes.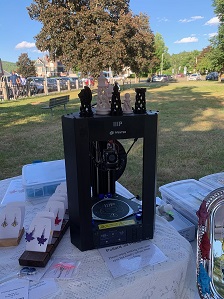 Four trends
Lux's report Top Chemicals and Materials Start-ups of 2020 identifies four major trends of which companies should be aware. And they list companies that excel in these trends.
The Chemicals and Materials Company of 2040. The chemicals and materials industry is being transformed by pressure on energy and feedstocks as well as new digital business models. These changes will drive tighter integration among products, materials, and processes.
The Sustainability Imperative. Due to growing customer and regulatory pressures, it is imperative to cut CO2 emissions, eliminate waste, and mitigate environmental impacts. Meeting these challenges requires near-term technologies like bio-based materials, as well as process changes to enable a circular economy.
Materials and Digital Transformation. Digital design and manufacturing tools like 3D printing, materials informatics, design software, and synthetic biology can accelerate commercialization timelines and create new business models for materials. Both materials producers and end users must become fluent in new tools to remain competitive.
Consumer Transformation. Rising demand from consumers for products with greater personalization, cleaner ingredients, more functionality, and reduced environmental impact creates needs for materials innovations. Materials companies need to be aware of changing downstream demands, be agile and flexible in R&D, and engage with start-ups.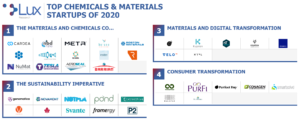 Chemicals and materials industry needs to innovate
We were particularly interested in the consequences of the 'sustainability imperative' and asked Antonio Schiavo some questions about this.
You mention biobased materials as one of the alternatives to meet the sustainability requirement. What specific difficulties specific difficulties do these companies run into? 'The biggest opportunity for companies like NotPLA and Novamont is in plastic films with improved end of life, but they must navigate the complex transition occurring in waste management systems in order to be successful. Novamont's deployment of compostable bags in Italy is a good case study; it required buy-in from consumers, local governments, and the existing players in composting. Building these alliances on a larger scale will take time, and likely be the biggest hurdle to commercialization.'
In the circular economy section you mention Vartega, a company that produces recycled carbon fibre. On their site, they are very clear about the obstacles they meet. These essentially relate to the industry's innate conservatism. Could you please comment on this? 'Composite recycling is very different from other sustainable technologies – the volumes are much smaller and the waste is far more valuable. For Vartega, carving out a market niche will be the biggest challenge; recycled carbon fibre is a wholly new product in terms of performance and price and won't simply drop into existing markets. While there's an element of conservativism with existing industry players, Vartega will also need to convince players outside the existing carbon fibre industry to adopt their materials.'
Do you have any projections for the expected growth of the markets covered by these companies? 'These materials cover a wide range of applications and markets. I'd highlight the emerging market for metamaterials, which we expect to grow to $10 billion by 2030 from almost nothing today; plastic recycling, which we expect to triple over the next decade; and biodegradable bioplastics, the supply of which we expect to double by 2030.'
In your press release, you announce 'disruption' from companies such as these. Who will suffer? 'Existing material and chemical companies stand to lose the most from these transitions. Some will fail to make moves into sustainable materials and lose market share as a result. Others will fail to respond as material design and product design become more closely intertwined.'
Major changes ahead
The chemicals and materials industry will have to look at several new developments taken together. Consumers tend to make more claims on the products they buy. These need to satisfy more closely their needs and have better environmental performance as well – particularly as climate change is going to kick in, in the decade to come. Tighter regulation also requires companies to improve their environmental performance. In this area, it seems more profitable to lead than to lag behind – and that requires a special mind-set. And then, new materials come to the market all the time, many of which show improvement in precision and sustainability. On top of that, new technologies like 3D printing and synthetic biology already require the chemicals and materials industry to innovate all the time. Whether we like it or not: there are major changes ahead.
Interesting? Then also read:
Sustainability is crucial for success, says Lux Research
Biobased materials and chemicals driven by performance
Plastic recycling: urgent, but a major problem
(Visited 12 times, 1 visits today)