Coffee-roasting house Peeze in Arnhem introduced the first fair-trade and climate-neutral coffee on the market, last month. In the production chain of this fair-trade coffee, CO2 emissions are first reduced as much as possible; the remaining emissions are compensated by acquisition of coffee farmers' emission rights. Other agricultural products will follow. Peeze showed its new, climate-neutral fair-trade coffee at the Dutch National Sustainability Congress late November in Rotterdam.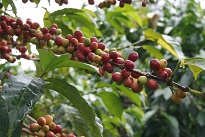 Europe has the highest coffee consumption in the world, on average six kilograms per capita annually. The eight highest coffee-consuming countries are European. Roughly half of CO2 in the chain is emitted during production, the other half during consumption. The latter part for instance includes coffee machines, permanently on standby, but only used less than ten hours per week.
Fair-trade Carbon Partnership
The other half of the emissions originate from production: some 40% from growing coffee plants, and just a bit more than 10% from processing, transport, roasting and distribution. Peeze targeted these CO2 emissions from growing to distribution in its 'Fair-trade Carbon Partnership', a project with Ecofys, Max Havelaar Foundation, and the FairClimateFund. A cradle-to-gate project. In particular, the Fair-trade Carbon Partnership targets the weakest link, the coffee farmers; in Ethiopia, in this project. Globally, 80% of all coffee is grown by small-scale farmers in developing countries. Often, these do not have the funds that allow them to invest in their company, for instance to buy fertiliser and pesticides. Their environment deteriorates because increasingly, local forests are cut down for cooking purposes. But coffee plants thrive only in the shadow, and therefore wither if they are no longer protected by trees. In order to save coffee plantations in Ethiopia, forest logging should come to a halt; and that can only be achieved if people no longer use the wood to cook their meals. If we cannot stop that process, forests will disappear within thirty years, and so will coffee plantations.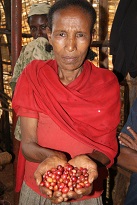 The Fair-trade Carbon Partnership, initiated by ICCO and the Max Havelaar Foundation, started a Coffee-Wood program for 30,000 farmers' families in Ethiopia. It consists of three parts: introduction of wood-saving stoves, Climate Smart Agriculture intended to promote sustainable agricultural methods that increase coffee plant productivity, and forest protection. The oven project is already in operation, the other two will soon follow. Each project is eligible for emission rights. After certification, each ton of CO2 reduced, compared to the original situation, will earn one emission certificate.
A unique model
The concept of reducing emissions at the source and compensating the remainder is new, and Peeze's coffee – excellent espresso by the way – is the first example of such a product. The unique feature is that the coffee farmers, the owners of the emission rights, sell these to the coffee roaster. In doing so, they fund the three projects and earn an extra income on top of that. The price of one emission certificate has been set to € 12.50 per ton CO2. This is not an arbitrary price. It is somewhat higher than present CO2 prices on the market, but considerably lower than the price needed to reduce CO2 emissions at a large scale. But on € 12.50 per ton CO2, the Ethiopian Coffee-Wood program can sustain itself, and neutralise its own production chain in doing so. If the price of CO2 should rise, the organisations will be able to fund more projects. It is a novelty, that such a calculation has been made for a climate-neutral agricultural sector as a whole.
Now this is a well-organised project, one could refine it almost to the individual farmer, but the organisers intend to target other agricultural sectors as well. Tea production in Sri Lanka could be their next project.
(Visited 3 times, 1 visits today)