Last 15 September the first Kipster opened its doors in Venray, the Netherlands, a chicken farm that calls itself 'the most animal friendly and sustainable chicken farm in the world'. The designers of Kipster have not just paid attention to chicken welfare and the company's ecological footprint; its eggs will also be sold at a minimum price in the Dutch branch of price fighter Lidl.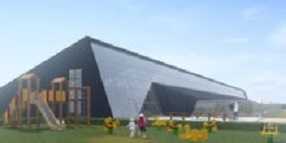 Innovations
This combined achievement is the result of a large number of innovations. The press release sums up a few:
• the farm is designed on the basis if the chicken's instincts and needs;
• it carries 1,100 solar panels that result in an energy positive farm;
• emissions of fine particulate matter has been reduced to an absolute minimum, on the basis of first-of-a-kind equipment for agricultural purposes;
• chickens are fed with a purposely developed new fodder, environmentally friendly produced from side streams that do not interfere with human food sources.
Kipster's eggs will be exclusively on sale at Lidl from 26 October onwards. Lidl will also be the first Dutch supermarket that sells the cock's meat. As many cocks are born as hens. It is standing practice to destroy them directly after birth, some forty million times annually in the Netherlands. Kipster and Lidl are the first ones to deviate from this practice. They fatten the cocks, kill them after 17 weeks, and use them for the production of 'cockburgers'.
Three stars for Kipster
Ten years ago, poultry experts of Wageningen UR, entrepreneurs and the national society for animal protection together developed the Roundel, at that time a major step forward in chicken-friendly eggs production. The principle of the Roundel (of which there are four in the Netherlands now, one closed down unfortunately) is the separation of the various behavioural patterns of the chicken, and the assignment of each behavioural pattern to a dedicated space: resting, foraging, dust bathing, laying eggs. This allows the farmer to breed many hens, and still allow each hen to display its natural behaviour. These same principles have lain at the basis of the Kipster design. For that reason, the national society of animal protection has granted three stars for animal welfare to this design, as it did to the Roundel.
I asked Bram Bos of Wageningen UR, who was involved in the design of the Roundel but not in that of Kipster, if the latter design might even improve on the former. 'If we look at chicken friendliness, in my opinion Kipster is comparable to the Roundel,' he answers me. 'The chickens might have marginally more light, and just some more space, but the differences are small. They will have a good life down there. The food composition is a major improvement: now already almost exclusively based on agricultural streams that do not interfere with human food. It consists of side streams, like unsaleable goods from bakeries and coarse sunflower meal, that lower the ecologic footprint. Kipster has the ambition to extend this principle up the production chain, and eventually produce food components from waste through insects. This is unique in the chicken farming sector. This model will quickly run into limitations (because there are not enough side streams in the Netherlands to feed many more chickens). But maybe we should limit the number of chickens to the amount of available side streams from agriculture and food industry that are not in competition with human food, as suggested by my colleague Imke de Boer. As for fine particulate matter: Kipster has implemented rigorous technology, it is in the forefront in this area. And finally, the cocks are not destroyed right away, but fattened until they produce meat. This is fairly unique, very animal friendly, but maybe not the most efficient way to use our feedstock. Very interesting that Kipster does this, but it might not be the summit of sustainability.'
The Kipster entrepreneurs
Four years of development have preceded the construction of this first farm. Many organisations like the national society for animal protection and Wageningen UR have been involved. Kipster is the initiative of four entrepreneurs: Ruud Zanders (poultry expert), Maurits Groen (entrepreneur in sustainable solutions), Styn Claessens (farmer) and Olivier Wegloop (communication strategist). 'In my opinion it is very brave for these gentlemen to embark upon this project,' says Bram Bos. 'And very commendable that Lidl backs up the initiative. I am very curious to learn about the performance of their business model, for the equipment is quite expensive and the price of the eggs is going to be very competitive. I wish them much success.'
Interesting? Also check:
Meat is fine! No problem for world food supply
Towards precision agriculture with less environmental impact
(Visited 102 times, 1 visits today)