'Frontrunners in horticulture should concentrate on fresh products that contain ingredients for a healthy diet and would be a remedy against diseases like cancer, obesity and diabetes2. The Netherlands have the best horticultural sector in the world, but misses an enormous opportunity here.' Says Rob Baan, CEO of Koppert Cress in Monster, the important horticultural area near The Hague. His company grows herbs with special tastes, he calls them 'cresses'. A high-quality product for chefs.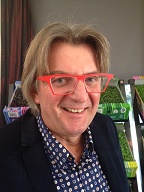 High-tech horticulture
A major chemical industrial area like Botlek/Europoort will never fail to impress the visitor with its size and activity. Going from The Hague to the Monster area, one is equally amazed by the horticultural complex that has evolved there. A glass city constructed from greenhouses and auction buildings and fantastic accompanying logistics. The two areas taken together represent the most important sectors of Dutch exports. 'And yet, it could be done much better,' says Rob Baan, the flamboyant director of Koppert Cress, a company that operates with the subtitle 'Architecture Aromatique'. An amazing, hyper modern company, innovative to its finger tips, from the innovative products to the greenhouses with their energy and water systems. For instance, Rob did not buy the newest LED-lights for his company, but he bought lighting for a period of 20 years. Pink lighting, because plants do not absorb green light, and therefore he does not light his plants with that colour. Reducing his energy costs. He does not grow his plants on soil, but on a kind of nappy material that can absorb enormous amounts of water. This all results in a form of horticulture, if one could so call this high-tech factory, that is unique in the world. In 2000 he acquired the company, with the help of Chines investors, and expanded it to its present size.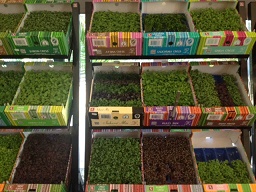 Plants with an oyster taste
Rob Baan produces 60 different tastes, that find their way to chefs all over the world. He send boxes with little plants selected from the assortment to new customers personally. One box, containing sixteen small cups with plants having different tastes, sells at € 20 in Moscow. Plants grow in one to several weeks, and they all have a special taste that appeal to the know-how of chefs. He finds them all over the world, and they have the taste of oysters, radish, camembert, aniseed, mustard, and much more. One little plant, called 'BlinQ Blossom', radiates in the light and would crown any Christmas salad. Building upon such finds, Rob expanded his company to a multimillion horticultural business, that daily hosts visitors, among them many cooks, who experiment with his products in his hyper modern kitchen. A visit to Koppert Cress resembles a wine tasting, but with herbs instead. Quite a special experience. The plants that have an oyster taste, for instance, originated in Brittany and is very popular in gastronomy. Tastes on a molecular level, Rob Baan calls his products. All chefs want to use special tastes from nature. They find them in Monster. Sixty different ones. A high-end product of Dutch horticulture. 'The Netherlands is an expensive country,' Rob says, 'so let us make expensive, special products that allow us to earn a living. Producing cheap stuff will not do for this country.' Therefore he feels that Dutch horticulture is heading the wrong way. 'Those people just want to produce as cheaply as possible.' Quite an interesting view, eh?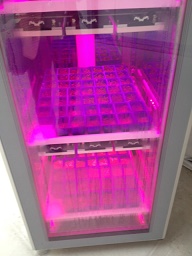 To learn how to eat healthy food
In addition to expanding his horticultural company, Rob Baan has a second mission: proving the connection between food and health, and teach people to eat healthy in order to ban diseases like cancer, obesity and diabetes2. 'Doctors do not understand these relationships, they just do what they were taught at university. That is science, so they think, and healthy nourishment does not fit into their job identity. Their science, by the way, has not contributed much to our health. We mainly owe our increased longevity to better hygiene and pure drinking water. But human beings still have the bodies of the hunter/gatherers that we were 170,000 years ago, and we need to feed that body similarly, if we wish to stay healthy.' According to him, one third of the people die because of incorrect diets.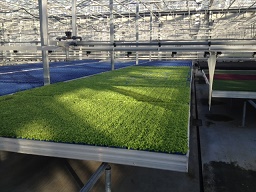 Health is the added value of horticulture
We have always contracted cancer, but it can be cured, or at least largely prevented, by eating broccoli, all sorts of cabbages, onions and garlic, containing substances that protect us from cancer. Tomatoes contain lycopene that prevent sun burn and hence protect us from skin cancer. Obesity, a similar case. What causes it? Our diet that only contains prepared food. In short, our diet without fresh plants, with their array of useful substances, is dangerous. Vitamin pills that mostly contain just one ingredient, do not constitute an alternative. Just in the Netherlands, one million out of seventeen million inhabitants have diabetes2, and we can solve that problem by a better diet, containing fresh vegetables and fresh fruit. 'That should constitute the added value of our horticultural sector. In that way, it can make a difference to the world,' says Rob Baan. Under medical supervision, he is planning to do experiments in the Northern provinces of the Netherlands, in order to ascertain if the incidence of diabetes2 can be reduced by means of a better diet. 'Horticulture should concentrate at that. At fresh products containing a high concentration of protective substances. Meat might just be the garnishing. Vegetables, that is what it is all about.'
(Visited 7 times, 1 visits today)