More with less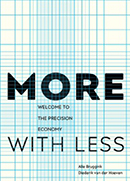 Welcome to the Precision Economy

Precision is going to do away with waste and will give a major boost to the economy; according to Alle Bruggink and Diederik van der Hoeven in their new book 'More with Less, Welcome to the Precision Economy'. Precision technology enables companies to make better products: of better quality, producing less waste and less environmental pollution, using less energy, in short: more sustainable. And in mankind's use of hardware, a shift is going on towards more efficient use (less idle property): the sharing economy. But precision will also come with its dilemmas, discussed by the authors.
This book is sold out.
More about the book More with less >>
---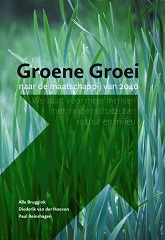 Green Growth (Groene Groei)
How will Europe, the Netherlands in particular, earn its income in twenty-five years' time, in a sustainable way? How do we prepare for the world of 2040? By green growth, based on the development of sustainable products and services. An analysis of the plans of the major Dutch industrial branches show that they have that in mind.
Check the executive summary of Green Growth
Click here for the introductory chapter of the book Groene Groei (in Dutch, pdf): Waarom groene groei?
Published by: Biobased Press
---