Dit evenement is voorbij.
Renewable Materials Conference 2022
10 mei 2022 @ 08:00

-

12 mei 2022 @ 17:00
The answer to your hunt for renewable materials: The Renewable Materials Conference 10 – 12 May 2022, Cologne, Germany (hybrid event). The unique concept of presenting all renewable material solutions at one event hits the mark: bio-based, CO2-based and recycled are the only alternatives to fossil-based chemicals and materials.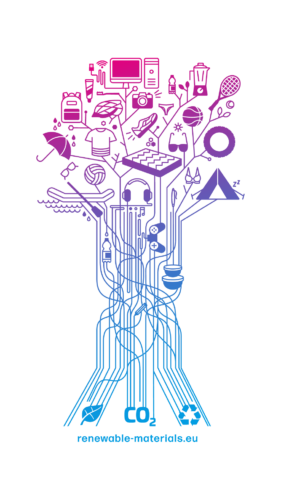 Ready-to-use fossil-free sustainable material solutions with a low carbon footprint are in fast-growing demand. Innovative brand owners are keeping an eye out for such solutions, in particular those that will soon reach the mainstream.
For the second time, nova-Institute presents numerous market highlights from bio- and CO2-based chemicals and materials, as well as from chemical recycling: All material solutions based on renewable carbon. Together, there is sufficient potential to completely replace petrochemicals by 2050. To tackle climate change at its roots, all additional fossil carbon from the ground must be substituted with renewable alternatives. Over the course of three days, participants will get a comprehensive overview of the latest developments in the renewable material sector, with a focus on industry-ready solutions from a wide spectrum of sustainable raw materials and technologies.
In 2021, the new concept of the Renewable Materials Conference generated an outstanding response, which exceeded all expectations: 420 online participants witnessed a firework of innovations of non-fossil material. 60 speakers, 11 panel discussions, 500 public posts and 1,500 networking activities were proof of the lively exchange during the three conference days.
In 2022, nova-Institute will host the conference physically in the heart of Germany's fourth largest city, Cologne, just a few hours away from France, Belgium and the Netherlands. Expected are more than 400 participants on-site and many more online. On-site, the conference will be accompanied by a large exhibition where companies and institutes can showcase their recent developments. The supporting program, networking activities and many secluded spots at the location offers excellent opportunities to make new business contacts and refresh old ones.
Please find the preliminary program here: www.renewable-materials.eu/program/
The innovation award "Renewable Material of the Year 2022", sponsored by Covestro
Producers and inventors of innovative technologies and applications are invited to submit their innovation by 15 March. A jury consisting of representatives of the nova-Institute, the advisory board and sponsors of the conference will nominate the outstanding "Top 6" applicants prior to the conference. In a short 10-minute presentation, each of the six companies will introduce their innovation on the second day of the conference (11 May 2022). The award winners will be chosen by the conference participants online on the second day of the conference. Join the competition! Find all information about the Award here: www.renewable-materials.eu/award-application/
Please book your exhibition booth soon, limited area only. All details here: www.renewable-materials.eu/exhibition-booking/
Register soon for onsite participation
Large number of participants expected, but only limited numbers possible on site. Without corona restrictions max. 420 participants, with corona restrictions only max. 200 participants on site. We ask you to register quickly, otherwise we cannot guarantee your participation on site. We will initially only admit the first 200, the others up to 420 will first go on a waiting list. Of course, online participation is also possible. However, the focus will clearly be on "on site". www.renewable-materials.eu/registration/
(Visited 1 times, 1 visits today)